You've never had a waffle like a Liege Waffle! The waffles taste similar to Belgian waffles, but are sweetened with pearl sugar. These waffles have a crispy exterior and a warm, soft interior. Topped with fresh berries and whipped cream, you won't find a better brunch companion!
It's no secret I love breakfast. I think about every breakfast recipe I write, I have to remind you that it's the best meal of the day (in my opinion!). I also can't help but love a good brunch served with warm waffles or fluffy pancakes, a side of scrambled eggs, and a fun drink like an Orange Julius!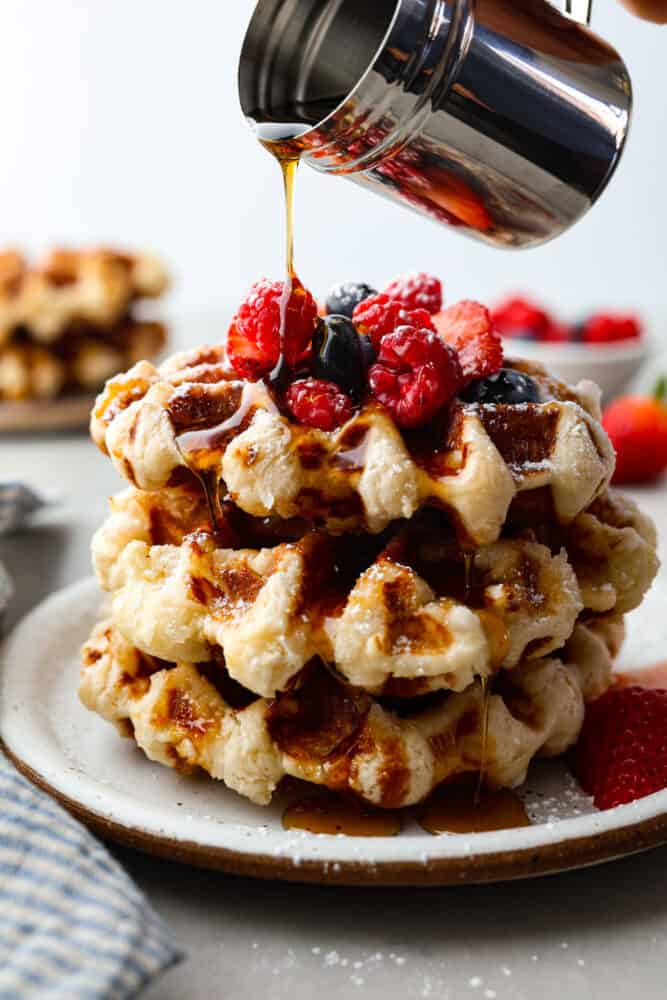 Liege Waffle
At this point, let's be honest, we all want to know what a liege waffle is right?! Why is it so cute and what makes it different? The pearl sugar makes a liege-style waffle a bit sweeter than a regular Belgian waffle. The dough is thicker and more dense than the usual waffle batter. You form dough balls that you then place into your waffle maker. The waffles are crisp on the outside, and soft, warm and dreamy inside. This recipe for liege waffles is a copycat version of the delicious waffles that you can find at Bruges in Salt Lake City.
You need to stop everything if you love waffles.